Using Copilot AI Assistant in Edge Browser
Microsoft Edge is one of the most popular web browsers today, with over 600 million monthly active users. It offers fast performance, security, privacy, and compatibility with various platforms and devices.
But did you know that it also has an AI assistant that can help you with various tasks on the web? In this blog post, we will show you how to use this feature and what benefits it can bring.
What is Copilot?
Copilot is an AI-powered feature that Microsoft added to its Edge browser. It appears as a sidebar on the right-hand side of your browser window, and you can activate it by clicking on the Copilot icon.
Copilot is powered by Bing Chat, which is a conversational AI system that uses natural language processing and deep learning to understand your queries and generate responses. As you know, Bing Chat is based on ChatGPT.
How to enable Copilot in Microsoft Edge?
To use Copilot, you need to have version 111 or higher of Microsoft Edge installed on your device. You also need to be enrolled in the Bing Chat program, which is currently available by invitation only. To join the waitlist, go to bing.com and sign up with your Microsoft account.
Once you have access to Bing Chat, you can enable Copilot by clicking on the chat icon at the top right corner of your browser. You will see a sidebar open with a welcome message from Copilot. You can then start using Copilot for various tasks.
What can Copilot do?
Copilot can assist you with different tasks depending on what you are doing on the web. Here are some examples of how you can use Copilot:
Answer questions
If you have any questions about the content of a web page or document, you can ask Copilot to answer them for you.
For example, if you are browsing an online store and want to know more about a product's features or reviews, you can type "what are the pros and cons of this product?" or "what do customers say about this product?" and Copilot will provide relevant information from the web page or other sources.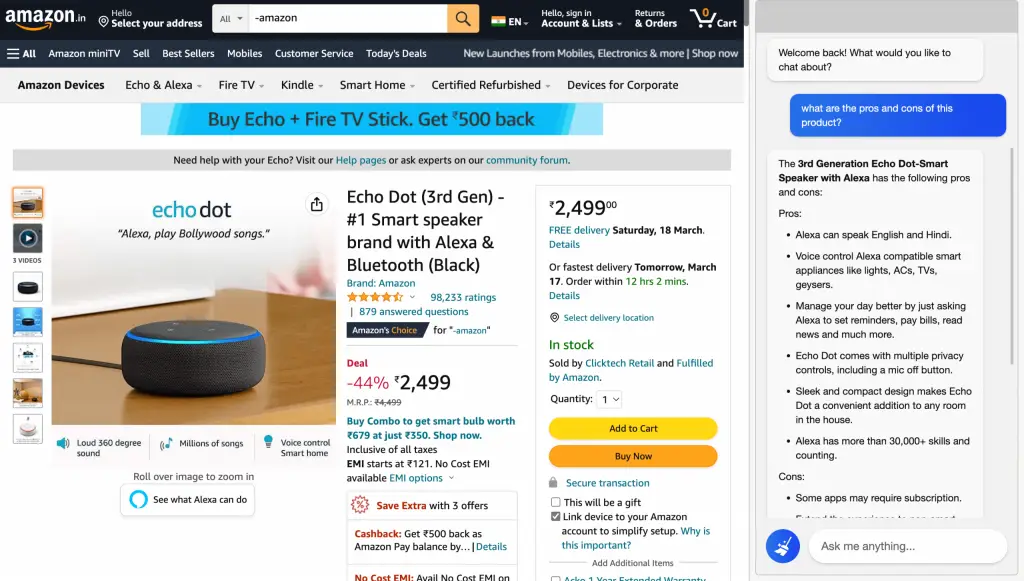 Compose text
If you need help writing text for various purposes such as emails, social media posts or blog posts, you can use Copilot's compose feature. This feature allows you to generate text based on some prompts or keywords that you provide.
For example, if you want to write an email inviting someone to an event, you can type "write an email inviting Alfred to our webinar" and Copilot will generate a draft email that you can edit and send.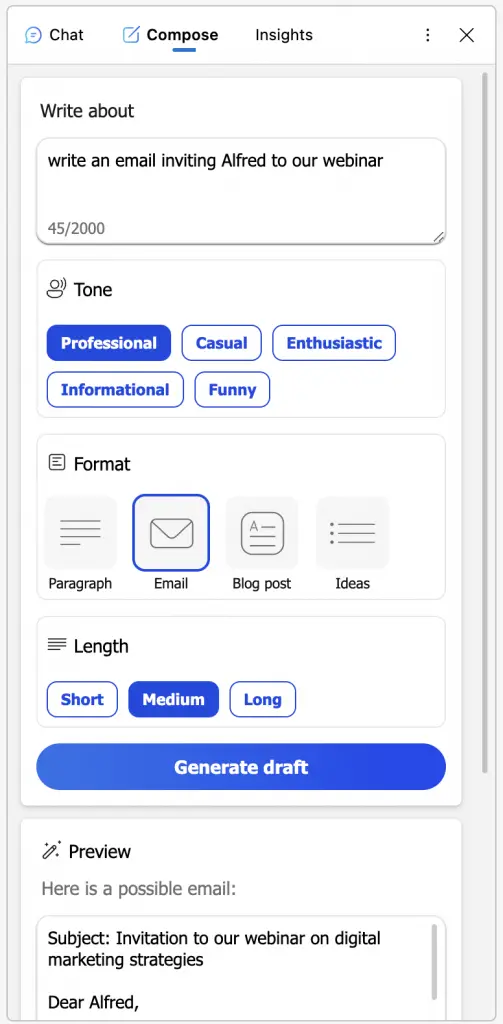 Summarize web pages
If you want to get a quick overview of a web page or document without reading it fully, you can ask Copilot to summarize it for you.
For example, if you are reading a news article about a new product launch, you can type "summarize this article" in the chat box and Copilot will give you a brief summary of the main points.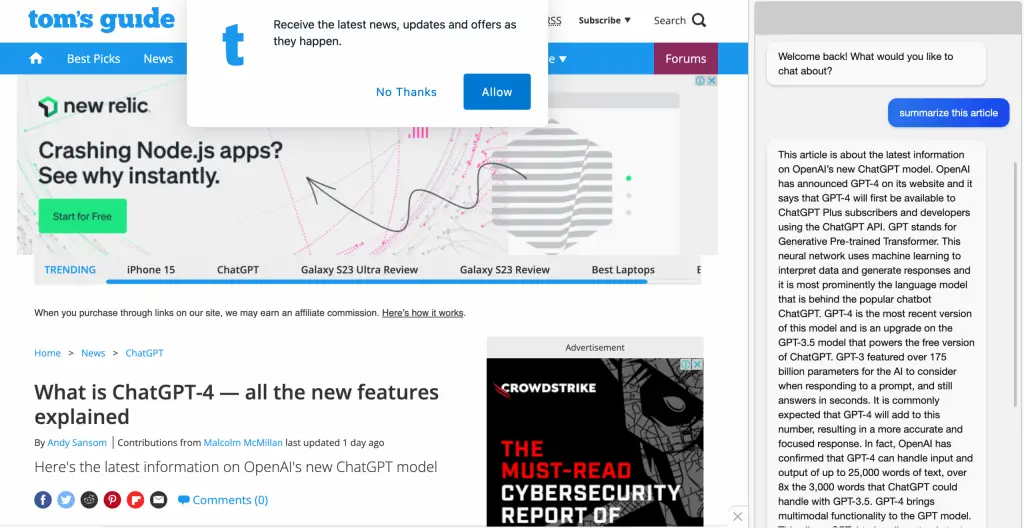 How to use Copilot?
To use Copilot in Edge browser:
Make sure you have updated your Edge browser to version 111 or higher.
Go to Bing.com and join the waitlist for Bing Chat. You will receive an email when Bing Chat is available for you.
Open any webpage or document in Edge browser.
Click on the Copilot icon from the top right to launch the Copilot assistant.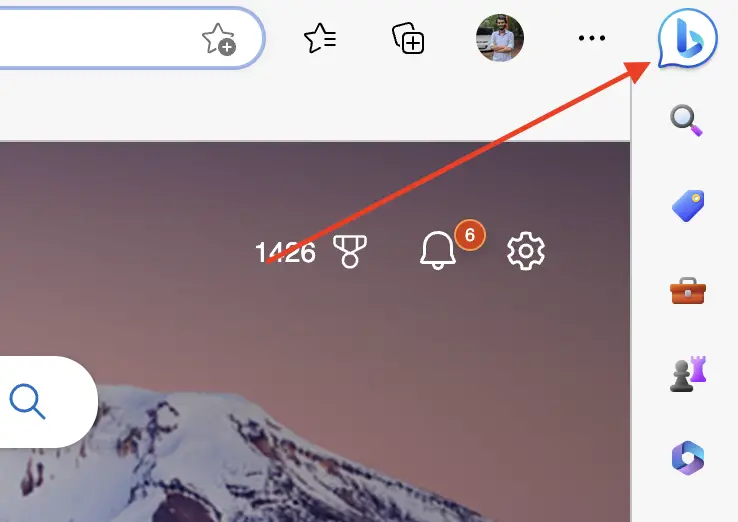 Choose any of the tabs from the top. You will have three tabs: Chat, Compose, and Insights.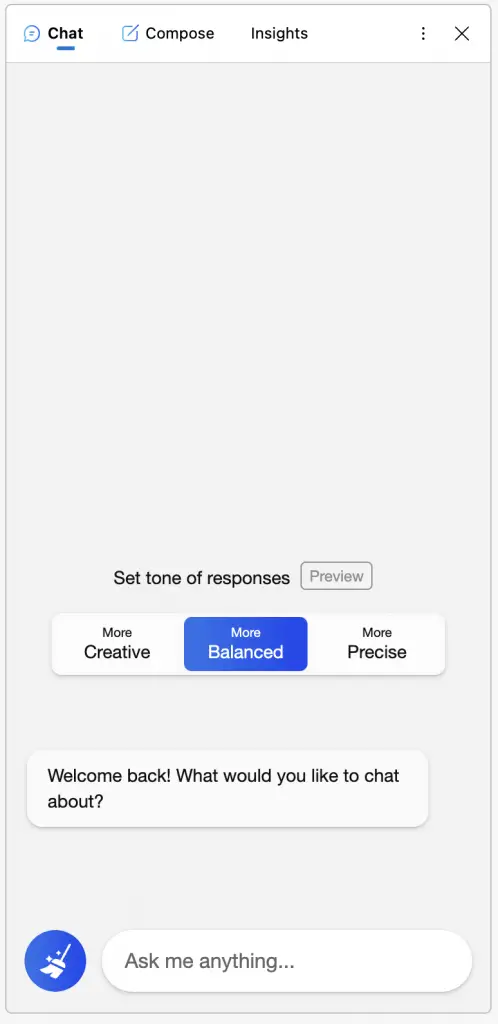 Type your query or prompt in natural language in the text box.
Press Enter or click on Send button to get a response from Copilot.
Why use Copilot?
Copilot is a useful feature that can enhance your browsing experience by providing:
Convenience: You don't need to switch tabs or windows to get information or assistance from different sources. You can access everything from one place within your browser window.
Efficiency: You don't need to type long queries or commands to get what you want. You can use natural language and simple phrases to communicate with Copilot.
Intelligence: You don't need to rely on generic or irrelevant results from traditional search engines. You can get personalized and contextualized responses from Copilot based on your needs.
Conclusion
Copilot is an innovative feature that Microsoft has added to its Edge browser. It leverages artificial intelligence technology to provide users with assistance for various tasks on the web.
Whether you want to chat about something interesting, compose something creative, or search for something useful, Copilot can be your helpful companion in Edge browser.