How to Add Bluetooth Icon to Menu Bar on Mac
The macOS, known for its user-friendly and customizable interface, offers several ways to enhance user experience. One of these ways is through the strategic use of the menu bar. The menu bar, located at the top of your screen, can provide quick access to essential settings and features, allowing you to manage your Mac with ease.
One important setting that the menu bar can help you with is Bluetooth connectivity. Bluetooth, a technology that allows the exchange of data between different devices, is an integral part of most modern Macs.
In this blog post, we'll walk you through the process of adding the Bluetooth icon to the menu bar in macOS. This simple yet valuable addition to your menu bar can drastically streamline your workflow and boost your overall Mac experience.
Importance of Bluetooth Icon on Menu Bar
Before we delve into the step-by-step process, it's important to understand why you might want to have the Bluetooth icon on your menu bar. Whether it's connecting your wireless headphones for a seamless music experience, or linking your Mac to your smartphone for effortless file sharing, Bluetooth facilitates a wide range of functionalities.
By adding the Bluetooth icon to your menu bar, you have quick and easy access to these features. It lets you see the Bluetooth status, and manage connected devices and settings all from one location. This saves you time and effort, and lets you troubleshoot any potential connectivity issues swiftly.
Add Bluetooth Icon to Menu Bar
Ready to add the Bluetooth icon to your menu bar? Follow these steps:
Click on the Apple menu located in the top left corner of your screen.
From the dropdown menu, select System Settings. This will open the preferences window.
Scroll down the left sidebar of the settings until you find the Control Centre section. Click on it to reveal the control centre modules in the right panel.
Scroll down to the Bluetooth section and switch the Don't show in Menu Bar selection to Show in Menu Bar.
Look at the top right corner of your screen to confirm that the Bluetooth icon is now visible on the menu bar.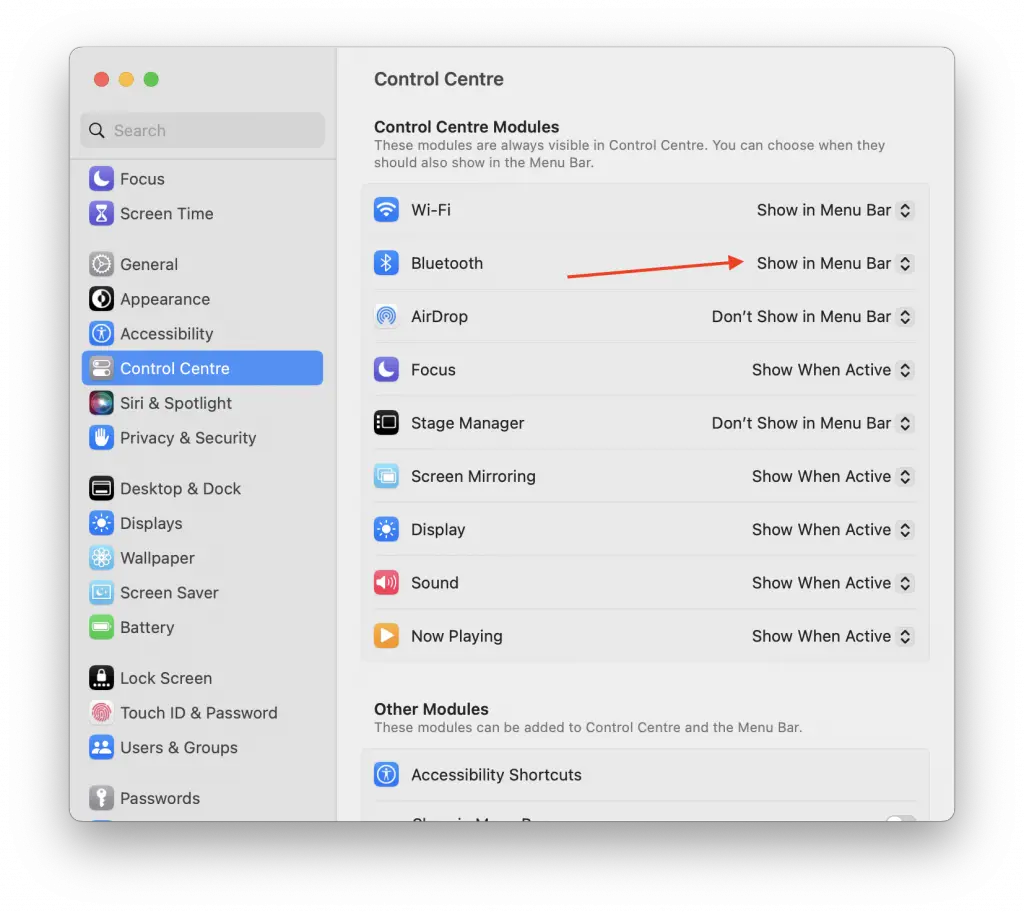 By following these steps, you should now have the Bluetooth icon in your menu bar. It's a small change, but it can make a big difference to your workflow.
Manage Bluetooth Devices from Menu Bar
Now that you have the Bluetooth icon in your menu bar, it's time to learn how to use it effectively.
Connecting to a new device: Click on the Bluetooth icon, select your desired device from the drop-down list, and then choose "Connect."
Disconnecting or removing a device: Select the Bluetooth icon, choose the connected device, and then opt for "Disconnect" or "Remove."
Accessing Bluetooth settings: Simply click on the Bluetooth icon and select Bluetooth Settings. This will give you access to more settings and options for your Bluetooth devices.
In this blog post, we've shown you how to add the Bluetooth icon to the menu bar on your Mac. We've also given you tips on how to effectively manage your Bluetooth devices and connections. With this simple addition, you can enhance your user experience and swiftly manage any connectivity issues.