How to Enable Vertical Tabs in Microsoft Edge
Vertical tabs are a feature in Microsoft Edge that can make browsing more organized and efficient. If you often find yourself overwhelmed with numerous open tabs, then vertical tabs may be just what you need.
In this blog post, we'll go over the steps to enable this useful feature in Microsoft Edge.
What are Vertical Tabs?
Vertical tabs move the tab bar from the top of the browser to the side. This allows you to see more of your tabs at a glance, making it easier to manage multiple open pages. It's a great way to declutter and maximize screen real estate.
How to Enable Vertical Tabs
Open Microsoft Edge
Firstly, launch Microsoft Edge on your computer. Make sure it's updated to the latest version to access this feature.
Locate the Tab Actions Menu
Normally, your open tabs appear at the top of the browser. Here, look for the tab actions menu icon at the top left of the browser and click on it.
Click on the Vertical Tabs Icon
The vertical tabs icon is shaped like a small rectangle with an arrow pointing upward with the label "Turn On Vertical Tabs". It's located in the dropdown. Click on this icon to switch to vertical tabs.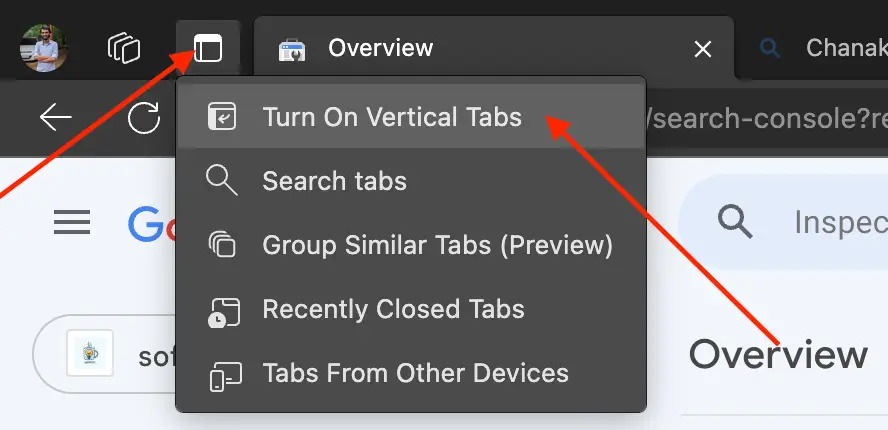 Enjoy Vertical Tabs
Once you click the icon, your tabs will immediately rearrange themselves vertically on the left side of the screen.
Benefits of Using Vertical Tabs
Better Visibility: See more of your open tabs without scrolling.
Easy Management: Easily drag and drop to rearrange or group tabs.
Increased Productivity: Spend less time searching for tabs and more time on your tasks.
How to Disable Vertical Tabs
If you wish to return to horizontal tabs, just click the tab action menu icon again. Then choose "". Your tabs will revert to their original horizontal layout.
Vertical tabs in Microsoft Edge offer an easy way to improve your browsing workflow. With just a few clicks, you can declutter your browser and focus more on what matters. Give it a try and see how it changes your browsing experience for the better.