How to Share an Apple Calendar Event on Mac
Sharing events from your Apple Calendar is a great way to coordinate schedules, plan meetings, or organize gatherings with friends, family, or colleagues. Apple's Calendar app on the Mac makes this process straightforward and user-friendly.
Whether you're a seasoned Mac user or new to the platform, this guide will walk you through the steps to share a calendar event.
Open Apple Calendar
Start by opening the Calendar app on your Mac. You can find it in your Dock, Applications folder, or use Spotlight (Command + Space) to search for "Calendar."
Create or Select an Event
If you need to create a new event, click on the desired date and time slot in your calendar, and a new event box will pop up. Fill in the event details like the title, location, and time. If you're sharing an existing event, simply click on the event in your calendar.
Add Invitees to Your Event
Inside the event details: You'll find various options for customizing your event. Look for the "Add Invitees" field.
Enter email addresses: In the "Add Invitees" field, type in the email addresses of the people you want to invite. You can add multiple email addresses separated by commas.
Suggestions from Contacts: As you type, the Calendar may suggest contacts from your address book. You can click on these suggestions to add them quickly.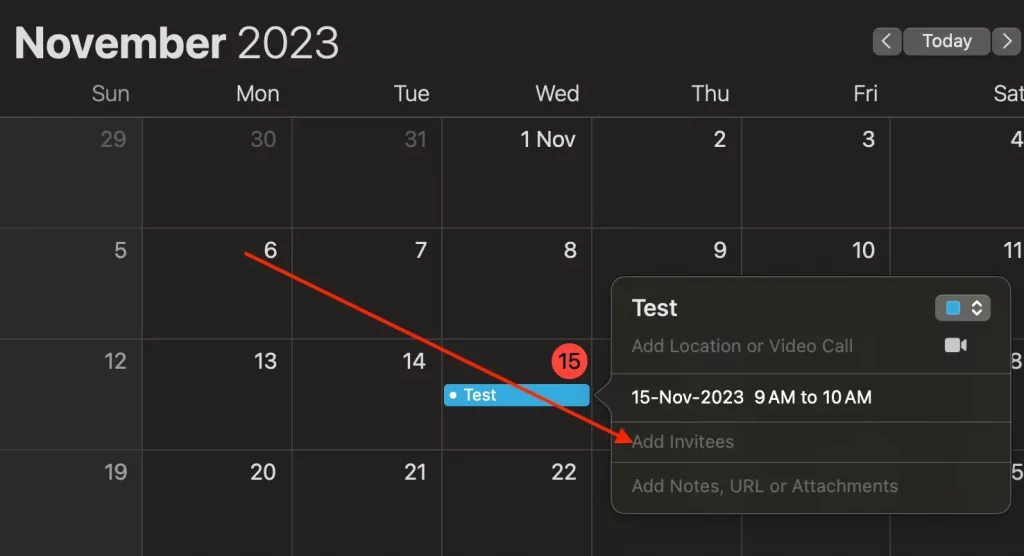 Send the Invitation
After adding all the invitees, click "Done" to close the event editing window. The Calendar app will prompt you to send an invitation email to the attendees. Choose 'Send' to share the event. The invitees will receive an email with the event details and options to accept, decline, or indicate "maybe."
Manage Responses
You can view the responses of your invitees in the event details. The Calendar app updates the status of each invitee, showing who has accepted, declined, or not yet responded.
Tips for Effective Event Sharing
Personalize Your Invitation: Add a personalized note in the invitation for a friendly touch.
Use Alerts: Set up alerts for your event to remind both you and your invitees.
Check Time Zones: If you're inviting people from different time zones, ensure the Calendar is set to adjust the event time accordingly.
Sharing a calendar event on a Mac is a seamless process that enhances your scheduling and planning efficiency. Whether it's a business meeting or a personal gathering, Apple Calendar's sharing feature ensures everyone is on the same page, well-informed, and prepared for upcoming events.